6 bed -
Sold Subject to Contract
Clare Lawn Avenue, London, SW14
Offers in Excess of £2,000,000
Sold via our 30Day Marketing Strategy... Call Sandra to Discuss..A Magnificent Detached six bedroom & extended period home on Clare Lawn Avenue, Parkside in East Sheen.
Sold via our 30Day Marketing Strategy... Call Sandra to Discuss..A Magnificent Detached six bedroom & extended period home on Clare Lawn Avenue, Parkside in East Sheen. Seamlessly blending traditional features with contemporary modern living, laid out over 3 floors, with generous living spaces throughout the ground floor.
The entrance hallway leads to two formal reception rooms, there is an open plan kitchen/dining which opens out via bi-folding doors onto a south facing secure garden and a formal dining room. Off the kitchen is a utility room which leads through to the integrated garage. There is a further separate office and downstairs WC. The first floor has four bedrooms, two have en-suites, the master bedroom has a walk through wardrobe into the en-suite bathroom, offering a bath and a separate shower cubicle, there is also a further family bathroom. The top floor hosts two bright double bedrooms with fitted wardrobes, extra skylights and a separate bathroom. There is gated side access to the rear, off street parking to the forecourt, and an integrated garage.
The property is within a few hundred yards of the Sheen Gate to Richmond Park and Palewell Common. The main shopping centre is approximately half a mile away, together with bus routes to Richmond, Putney, Barnes and Hammersmith. There are many excellent schools in the general vicinity, including Sheen Mount Primary School, St Paul's, Tower House, Ibstock Place School, The German and Swedish Schools, and Colet Court. Roehampton Club, Sports Grounds, Sheen Tennis and Squash Club, including The Royal Mid Surrey Golf Club and Richmond Golf Club. The 2,300 acres of Richmond Park also allows many pursuits such as walking, running and riding.

Tenure: Freehold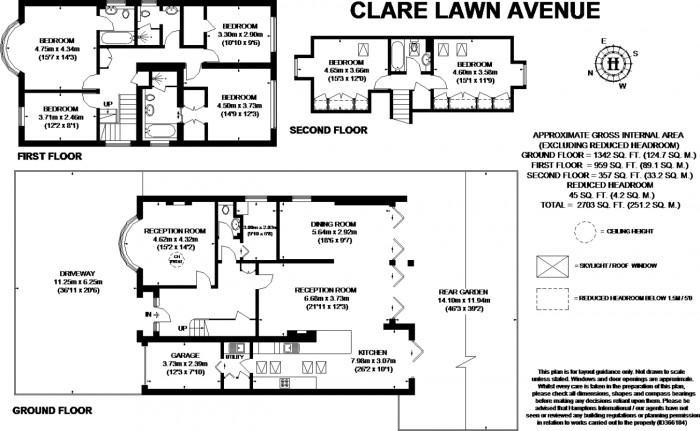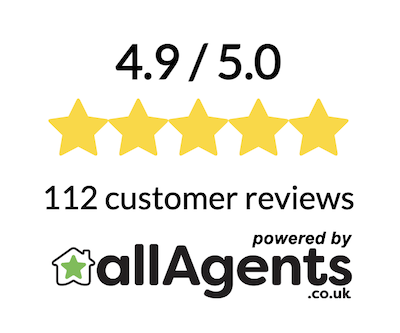 Independent Customer Reviews
★ ★ ★ ★ ★
Amy Appleton
"Sandra and her family were such a fabulous support during the buying and selling of our home. Their general approach to and invaluable experience was very much needed and gratefully used. They will soon be giving Estate Agents a good name!!"
★ ★ ★ ★ ★
Ian Biller
"Castor Bay have provided a really excellent service for me over the last few years looking after our rental properties in west London. The team are always available and quick to respond to any issues that arise as well as planning for ongoing compliance so that I'm confident that our..."
★ ★ ★ ★ ★
Nic Johansson
"We had met Sandra and Rick when they sold our neighbour's house and had known instantly that we wanted to work with them both when it came to selling our own house. Our neighbours had been incredibly positive about their experience with Rick and Sandra, and had recommended to us that we use..."
★ ★ ★ ★ ★
sian
"We were very pleased with the service that Castor Bay gave when selling our property. Sandra was an attentive and much needed liaison between all the parties. She kept the Solicitors on their toes!"
★ ★ ★ ★ ★
Mark Rouvray
"We just wanted to thank you for all your efforts in selling our property. We really appreciated the support you provided throughout the whole process. It was great to have someone to deal with directly on every aspect of the sale including all the viewings, providing prompt feedback, response to..."
★ ★ ★ ★ ★
Efi Karampela-Romeo
"Castor bay is one of the best agencies. We were living in a apartment that they managed and we were very happy. I totally recommend to whoever is searching for a place."
★ ★ ★ ★ ★
David Lindsley
"Sandra Tooley's energy and enthusiasm made things move for my Sale. After a few weeks of Open houses we narrowed it down two 4 positive buyers from them we selected a purchaser who proved very satisfactory and the sale proceeded very smoothly and quickly from there."
★ ★ ★ ★ ★
Jason Rowlett
"Sandra and her team took over selling our home after we were unsuccessful from our previous estate agent. Their approach to selling and experience helped us receive multiple offers and a successful sale."
★ ★ ★ ★ ★
Ian Bredahl
"Dan & Castor Bay provided excellent service for the sale of our property. Dan took care of all the relevant specific needs and assisted us through the whole process right to the end of exchange and completion of our property. I highly recommend Dan if you are looking to sell your property."
★ ★ ★ ★ ★
Ryan Skilton
"Dan To sold my flat when we needed to move on to the next chapter of our lives. We told him what we needed to get out of the property to make it viable to move into a larger home to start a family. He took onboard what we had to say and did an evaluation of the property. We let Dan do what..."
★ ★ ★ ★ ★
Sandra M
"I have lived in a property managed by Castor Bay and their services have been outstanding. Tina was our point of contact and from the very beginning she was always super responsive, very helpful, fair and professional with us. We had a few issues in the property that have been immediately picked..."