Cookies Policy
A cookie is a small file of letters and numbers that we store on your browser or the hard drive of your computer if you agree. Cookies contain information that is transferred to your computer's hard drive.
Our website uses cookies to distinguish you from other users of our website. This helps us to provide you with a good experience when you browse our website and also allows us to improve our site.
We use the following cookies:
Strictly necessary cookies. These are cookies that are required for the operation of our website. They include, for example, cookies that enable you to log into secure areas of our website, use a shopping cart or make use of e-billing services.
Analytical or performance cookies. These allow us to recognise and count the number of visitors and to see how visitors move around our website when they are using it. This helps us to improve the way our website works, for example, by ensuring that users are finding what they are looking for easily.
Functionality cookies. These are used to recognise you when you return to our website. This enables us to personalise our content for you, greet you by name and remember your preferences (for example, your choice of language or region).
Marketing and Targeting cookies. These cookies record your visit to our website, the pages you have visited and the links you have followed. We will use this information to make our website and the advertising displayed on it more relevant to your interests. We may also share this information with third parties for this purpose.
You can block cookies by activating the setting on your browser that allows you to refuse the setting of all or some cookies. However, if you use your browser settings to block all cookies (including essential cookies) you may not be able to access all or parts of our website.
Please note that some third parties also use cookies, over which we have no control. These third parties may include, for example, advertising networks and providers of external services like web traffic analysis services. These third-party cookies are likely to be analytical cookies or performance cookies or targeting cookies. Examples of these companies are Facebook and Google.
You can find more information about the individual cookies we use and the purposes for which we use them by contacting our Data Protection Lead at the contact address listed on our Privacy Policy page.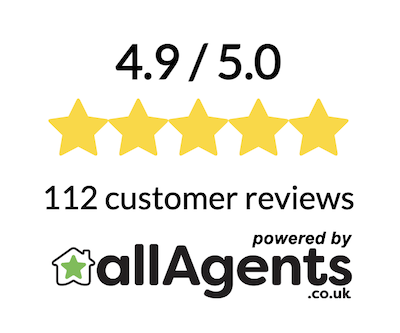 Independent Customer Reviews
★ ★ ★ ★ ★
Paul Fogg
"I recommend Castor Bay 100%. They took me through the selling process and gave brilliant help and advice all the way through the process. I had heard about their selling process and totally bought into this before using them. The idea of just working for the seller and not the buyer is so..."
★ ★ ★ ★ ★
Debbie Davis
"It was so refreshing to deal with Sandra at Castor Bay when buying my new home! A totally hands on company, nothing was too much trouble, straight talking and all my questions answered at speed and helpful advice along the way from start to finish! A complete personal service - thank you to..."
★ ★ ★ ★ ★
G Bhandal
"Extremely professional and super friendly service. Sandra in particular was always easy to reach by phone or email and happy to answer any questions or concerns. They made first time buying straightforward and stress free, especially in this financial climate. Would recommend!"
★ ★ ★ ★ ★
Elaine Colley
"Through the whole process of selling my property Sandra was on hand to make sure that everything went smoothly. Communication was excellent, responding to any questions promptly. Thank you Sandra."
★ ★ ★ ★ ★
Miguel Mendez
"I lived in a property managed by Castor Bay for 3 years, In summary an amazing from the letting process, the management of the property and the closure of the contract. I highly recommend them. Very special thanks to Tina Hadzhieva !"
★ ★ ★ ★ ★
christopher jones
"Castor Bay are by far the best agents I've dealt with. Highly efficient, prompt and timely and very fair. I would recommend them highly."
★ ★ ★ ★ ★
Esra Turker
"I have received an excellent service from Tina who has proactively managed my rentel prosess. Tina was kind,helpful and professional at all times . She was helpful throughout each stage of the process. She always communicated very promptly . I would definitely recommend Tina and Castorbay..."
★ ★ ★ ★ ★
Sarah Thomas
"If you are looking for someone as dedicated to selling your home for the best price as you, Castor Bay are the team. We had a few complicated property and buyer issues along the way, which they handled expertly, keeping us on track and in our chain. They managed the process from marketing..."
★ ★ ★ ★ ★
Chrissy Randall
"I stayed with one of their properties for a little over a year and all I can say is that I loved this place. This company always tried to get every issue I had solved in a timely manner with pristine results and I never had to fight them on anything. They are always courteous and friendly and..."
★ ★ ★ ★ ★
Kim Vermaak
"We rented a property through Castor Bay, and were absolutely happy with their service from the start until the end. Sandra showed us the property and from the first meeting she was friendly and approachable. Tina was always professional and would help with any query or problem we had. I would..."
★ ★ ★ ★ ★
geraldene cummins
"Sandra helped me sell my property. She was dedicated and kept things moving along until completion. I would definitely recommend her and her team."