4 bed for Sale
Colne Road, Twickenham, TW2
Offers in Excess of £850,000
Spacious 4 double-bed town house with parking, purpose-built, 3 floors & with loft on top, landscaped garden, moments from lovely Twickenham Green and a short stroll to BR station, High Street, M&S, Waitrose & River Thames. Almost 1300 square feet. Viewing Saturday Feb 25th, 9.30-10.30. Call now!
Ground floor:
* Private parking space at front door
* Living room - can be reconfigured as a ground floor double bedroom, with the big bedroom on 1st floor becoming living room (as original house layout)
* Beautiful dine-in kitchen with utility cupboard
* Pretty garden with party seating area and gate to grassy common

1st floor:
* Large double bedroom
* 2nd double bedroom
* Family bathroom with large luxury walk-in shower. Can easily be configured to have a bath

2nd floor
* 2 more double bedrooms
* Approx. metre-wide toilet which other houses in this row have converted into a shower room.

And finally, on the '3rf floor':
* A loft for storage.

Spacious family house with parking, in a row of only10 such homes, solidly built in the late 70s, in fantastic location just off the Green, with opportunity for buyers to add value..

Please call or email to register for the Saturday viewing.

Thank you

Council Tax Band: E
Tenure: Freehold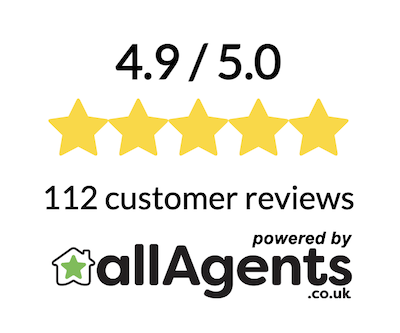 Independent Customer Reviews
★ ★ ★ ★ ★
Sandra M
"I have lived in a property managed by Castor Bay and their services have been outstanding. Tina was our point of contact and from the very beginning she was always super responsive, very helpful, fair and professional with us. We had a few issues in the property that have been immediately picked..."
★ ★ ★ ★ ★
Paul Fogg
"I recommend Castor Bay 100%. They took me through the selling process and gave brilliant help and advice all the way through the process. I had heard about their selling process and totally bought into this before using them. The idea of just working for the seller and not the buyer is so..."
★ ★ ★ ★ ★
Debbie Davis
"It was so refreshing to deal with Sandra at Castor Bay when buying my new home! A totally hands on company, nothing was too much trouble, straight talking and all my questions answered at speed and helpful advice along the way from start to finish! A complete personal service - thank you to..."
★ ★ ★ ★ ★
G Bhandal
"Extremely professional and super friendly service. Sandra in particular was always easy to reach by phone or email and happy to answer any questions or concerns. They made first time buying straightforward and stress free, especially in this financial climate. Would recommend!"
★ ★ ★ ★ ★
Elaine Colley
"Through the whole process of selling my property Sandra was on hand to make sure that everything went smoothly. Communication was excellent, responding to any questions promptly. Thank you Sandra."
★ ★ ★ ★ ★
Miguel Mendez
"I lived in a property managed by Castor Bay for 3 years, In summary an amazing from the letting process, the management of the property and the closure of the contract. I highly recommend them. Very special thanks to Tina Hadzhieva !"
★ ★ ★ ★ ★
christopher jones
"Castor Bay are by far the best agents I've dealt with. Highly efficient, prompt and timely and very fair. I would recommend them highly."
★ ★ ★ ★ ★
Esra Turker
"I have received an excellent service from Tina who has proactively managed my rentel prosess. Tina was kind,helpful and professional at all times . She was helpful throughout each stage of the process. She always communicated very promptly . I would definitely recommend Tina and Castorbay..."
★ ★ ★ ★ ★
Sarah Thomas
"If you are looking for someone as dedicated to selling your home for the best price as you, Castor Bay are the team. We had a few complicated property and buyer issues along the way, which they handled expertly, keeping us on track and in our chain. They managed the process from marketing..."
★ ★ ★ ★ ★
Chrissy Randall
"I stayed with one of their properties for a little over a year and all I can say is that I loved this place. This company always tried to get every issue I had solved in a timely manner with pristine results and I never had to fight them on anything. They are always courteous and friendly and..."
★ ★ ★ ★ ★
Kim Vermaak
"We rented a property through Castor Bay, and were absolutely happy with their service from the start until the end. Sandra showed us the property and from the first meeting she was friendly and approachable. Tina was always professional and would help with any query or problem we had. I would..."