7 bed -
Sold Subject to Contract
Inwood Manor, Inwood Lane, Hogs Back, Farnham, GU10
Offers in Excess of £3,000,000
A Manor House, built in a 'Georgian Style' (only 29 years old)
Surrounded by 5 acres of land with incredible views
Seven bedrooms, two with en-suite bathrooms, a further two bathrooms and shower room
Large Entrance Hall with flagstone flooring, fireplace with marble surround
Triple garage with automatic doors and parking for up to ten cars
Triple Aspect Drawing Room with door to Evening Terrace and open fire place with marble surround
Day Room/Office with door to Morning Terrace
Double aspect Dining Room (this could easily be knocked through to the kitchen)
TV Room with Library with felted wall covering for acoustics
Guildford is only ten minutes away by car and London 35 mins via train (London Waterloo)
A Manor House, built in the 'Georgian Style', discreetly hidden away, down a private lane into the most glorious valley, nestled deep inside the Surrey Hills. Inwood Manor is an exquisite and unique country house surrounded by 5 acres of private land with incredible views.
A Manor House, built in the 'Georgian Style', discreetly hidden away, down a private lane into the most glorious valley, nestled deep inside the Surrey Hills. Inwood Manor is an exquisite and unique country house surrounded by 5 acres of private land with incredible views.

The property includes landscaped gardens, perfect for sultry late summer parties, a paddock of ancient oak trees and a lawn bordered with pleached limes. Additionally, there are morning and evening terraces, a large greenhouse, and a substantial drive to a triple garage. It is perfect for those wishing to live the country dream but needing fast access to London.

Inviting Buyers who are looking to purchase within £3,000,000 to £4,000,000 (Buyer Search Range)
Inwood Manor is adorned with period features, with high ceilings and expansive windows throughout the bedrooms and living spaces. Although the property is only 29 years old, it was modelled on a grand Georgian manor house, and the superb period features are true to the architectural style. These include a rustic country kitchen, two open fireplaces and a period-style staircase that takes you up three floors and is top-lit by a beautiful skylight.

Nearby is the picturesque village Seale, where you will find a beautiful award-winning cafe, and the surrounding villages offer a variety of pubs and shops. The vibrant market town of Guildford is only ten minutes away, which is on the mainline to Waterloo, and the regular train service takes only 35 minutes.

The property is in good condition, with a recent exterior renovation, including an overhaul to the roof, new external lighting and complete decoration.  
Inwood House is waiting for imaginative owners to master this grand and very prestigious property and offers endless opportunities to make this your own home.

The back door garden gives access to the garage, and four large compost bays have been built to recycle garden waste. The ha-ha protects the house from unwanted guests and assists drainage.  The Klargester is shielded by Euonymus hedges, and a water tank is sited under a well top and feeds the automatic sprinklers to the gardens and lawns. Alitex Greenhouse with benches and Vine, auto ventilation.

Garden; A superb row of Pleached Limes border the front lawn, with steps up through the wild garden, with rare orchids and fruit trees to the south. To the rear, an ancient Oak forest with grasses and wildflowers shelters the northern aspect, flanked easterly by the North Downs escarpment and deer grounds and to the west are full height Yew hedges protecting the formal gardens. The Rope Walk links the house with the lawns and an amazing array of standard roses, climbers, shrubs and ramblers, underplanted with evergreens and ground cover plants. A fruit cage, further lawns to the greenhouse and 'cordons of apples' complete a well-established garden with plenty of space for a pool or tennis court.

Council Tax Band: H
Tenure: Freehold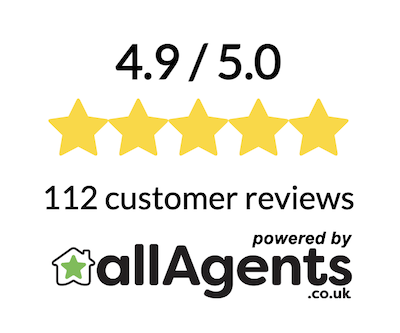 Independent Customer Reviews
★ ★ ★ ★ ★
Sandra M
"I have lived in a property managed by Castor Bay and their services have been outstanding. Tina was our point of contact and from the very beginning she was always super responsive, very helpful, fair and professional with us. We had a few issues in the property that have been immediately picked..."
★ ★ ★ ★ ★
Paul Fogg
"I recommend Castor Bay 100%. They took me through the selling process and gave brilliant help and advice all the way through the process. I had heard about their selling process and totally bought into this before using them. The idea of just working for the seller and not the buyer is so..."
★ ★ ★ ★ ★
Debbie Davis
"It was so refreshing to deal with Sandra at Castor Bay when buying my new home! A totally hands on company, nothing was too much trouble, straight talking and all my questions answered at speed and helpful advice along the way from start to finish! A complete personal service - thank you to..."
★ ★ ★ ★ ★
G Bhandal
"Extremely professional and super friendly service. Sandra in particular was always easy to reach by phone or email and happy to answer any questions or concerns. They made first time buying straightforward and stress free, especially in this financial climate. Would recommend!"
★ ★ ★ ★ ★
Elaine Colley
"Through the whole process of selling my property Sandra was on hand to make sure that everything went smoothly. Communication was excellent, responding to any questions promptly. Thank you Sandra."
★ ★ ★ ★ ★
Miguel Mendez
"I lived in a property managed by Castor Bay for 3 years, In summary an amazing from the letting process, the management of the property and the closure of the contract. I highly recommend them. Very special thanks to Tina Hadzhieva !"
★ ★ ★ ★ ★
christopher jones
"Castor Bay are by far the best agents I've dealt with. Highly efficient, prompt and timely and very fair. I would recommend them highly."
★ ★ ★ ★ ★
Esra Turker
"I have received an excellent service from Tina who has proactively managed my rentel prosess. Tina was kind,helpful and professional at all times . She was helpful throughout each stage of the process. She always communicated very promptly . I would definitely recommend Tina and Castorbay..."
★ ★ ★ ★ ★
Sarah Thomas
"If you are looking for someone as dedicated to selling your home for the best price as you, Castor Bay are the team. We had a few complicated property and buyer issues along the way, which they handled expertly, keeping us on track and in our chain. They managed the process from marketing..."
★ ★ ★ ★ ★
Chrissy Randall
"I stayed with one of their properties for a little over a year and all I can say is that I loved this place. This company always tried to get every issue I had solved in a timely manner with pristine results and I never had to fight them on anything. They are always courteous and friendly and..."
★ ★ ★ ★ ★
Kim Vermaak
"We rented a property through Castor Bay, and were absolutely happy with their service from the start until the end. Sandra showed us the property and from the first meeting she was friendly and approachable. Tina was always professional and would help with any query or problem we had. I would..."